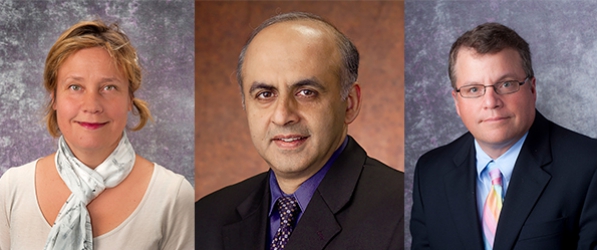 Congratulations to our following faculty members who recently received research funding:
Principal Investigator (PI) Eileen Bauer, PhD received funding from the National Institutes of Health (NIH)/ National Heart, Lung, and Blood Institute (NHLBI) for her study "Dual Role of HMGB1 in Pathogenic Platelet Biology in Pulmonary Hypertension (PH)." The investigators of this study aim to define the pathophysiology of platelet and immune system abnormalities in PH, and in turn, apply the knowledge to improve the care of PH patients.
PI Rakesh Sindhi, MD, with co-PIs Donghun Shin, PhD (Department of Developmental Biology, University of Pittsburgh) and Shankar Subramaniam, PhD (Departments of Bioengineering, Chemistry and Biochemistry, Cellular and Molecular Medicine, and Nano Engineering, University of California, San Diego) received funding from the NIH/ National Institute of Diabetes and Digestive and Kidney Diseases (NIDDK) for their project "Mapping Disease Pathways for Biliary Atresia (BA)." BA causes liver failure in childhood, has an uncertain etiology, and accounts for half of all liver transplants in children worldwide. The PIs will map pathways for this disease by identifying susceptibility genes in 1,100 children transplanted for this disease and evaluating gene function in animal models and human BA liver tissue.
PI George K. Gittes, MD received funding from the NIH/NIDDK for his project "Endogenous alpha-to-beta Cell Transdifferentiation In Diabetes." The researchers will study the phenotype, development, proliferation, RNA expression, and gene methylation of neogenic mouse β-cells derived from α-cells; study ways to optimize their formation; and pursue the feasibility of a novel lipid nanoparticle technology to replace the need for adeno-associated virus in the induction of α-to-β-cell transdifferentiation. They will also study the role of glucagon in α-to-β-cell transdifferentiation, the potential therapeutic effect of such transdifferentiation in models of type 2 diabetes mellitus, and the function of human islets that have undergone α-to-β-cell transdifferentiation, both in vitro and in vivo. The success of these studies should position the research group well in preparation for clinical trials in humans with diabetes.