Pittsburgh Surgical Outcomes Research Center (PittSORCe)
PittSORCE is devoted to transforming the conduct of clinical research within the Department of Surgery.
Surgical Education Research Program (SERP)
Education research for the surgeon and the cognitive operating room of the future. Offered by the Department of Surgery at the University of Pittsburgh, SERP welcomes faculty, post-graduates, and undergraduates in surgery to advance as educators and innovate in the field.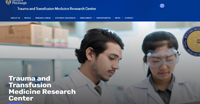 Trauma and Transfusion Medicine Research Center (TTMRC)
The TTMRC is a multidisciplinary research center engaged in improving the outcomes of trauma through innovative research.